Wholesale Paper, Plastic & Poly Bags, Plus FDA-Approved Food Packaging
Wholesale Bags & Packaging Since 1997
DM Packaging is Prepared for the Future.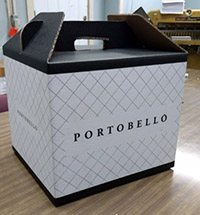 Need Catering / Deli Boxes? DM Packaging is ready to deliver. We have a growing number of options for Deli Boxes, Catering Boxes and Take-out Boxes. DM Packaging can offer you a full range of stock and custom boxes and other food storage items. View our options now or call us at 281-859-4933 to discuss options.
Our Customers Comes First.
DM Packaging always has and always will work for you - our customer. While we pride ourselves in representing a wide variety of quality manufacturers, our primary focus is you, the customer. We will do whatever it takes to produce just the right bag, sack, box, or custom packaging material for you on time and on budget.
DM Packaging Gladly Accepts Wholesale Quote Requests with the Following Minimum Orders (other minimums may apply)
Ice Bags - Custom Orders
50 cases
Coffee Bags - One lb. Stock
10,000 bags
Coffee Bags - One lb. Custom
25,000 bags
Restaurant Carry-Out Bags
50 cases
Reusable Bags - Wave Top
75,000 bags
Reusable Bags - Soft Loop Handle
15,000 bags
Food Cartons and Food Packaging
25 cases*, single
Food Cartons and Food Packaging
225 cases, mixed
Paper Bags - Plain (Stock)
10,000 lbs.
Paper Bags - Printed (Custom)
25,000 bags

Other products not listed here may also have order minimums for custom printing of 10,000 units. Hot stamping is available for some products for quantities under 10,000.


DM Packaging Sales Sheet PDF (118 kb)

Contact us at 281-859-4933 or request an online quote on your next packaging material supplies need. We look forward to hearing from you!

*25 case single product orders require prepaid freight