Hospital & Medical Bags
Specialized Hospital, Medical & Dental Bags, Packaging
DM Packaging can provide the medical community with any
medical bags or packaging
used on a daily basis in all areas of the industry.
We also offer
Credit Card Thermal, Bond & Carbonless Paper Printer Rolls
for all
Hospital Credit Card Terminals
,
Hospital Point of Sale and ATM Equipment
.
Autoclave/ Sterilization Bags (Heat/Steam Indicator Available)
Laboratory Bags
Dental Lab Bags
Patient Belongings Bags
Patient Valuables Bags
EZ-Tear Bags for after sterilization
Polyurethane Bags
Leak-Proof Designed Bags
Custom manufactured Medical Bags Available for EMS and other Medical Kits
Paper Shopping Bags
Specimen Bags
Bio-Hazard Bags
Puncture-Resistant Bags
... And Much More
Disposable Medical Apparel
DMP Packaging offers disposable Medical Apparel.
55 Gallon Trash Can Liners in Clear or Black
These
super-sized, heavy duty trash can liners
are 2.0mil thickness and are designed to be strong for extra holding power. They are made from premium quality, low density resin for high puncture and tear resistance and are available in clear or black.
Linear low density for high puncture and tear resistance
Size = 38" x 58"
100 per case
55 Gallon Can Liners
PDF (147 kb)
Stock Black Can Liners Price Sheet
PDF (234 kb)
New! Dual Security Transporter Envelope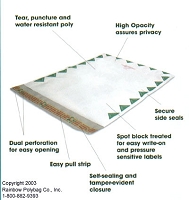 Features:
Tamper-Evident Adhesive Closure
Dual sequential numbering with detachable receipt for record keeping.
Barcode available.
Two-color stock imprint allows you to write on the bag to record content information.
Convenient non-slip style bag prevents slipping when stacking.
Custom and numbered
security envelopes
are available.
Tamper-Evident Security Envelopes with Sequential Numbering
DM Packaging offers a variety of
tamper-evident plastic envelopes and deposit bags
and plastic shipping bag designs.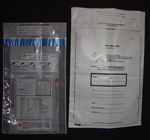 Our poly bags
and security bags have several layers of film for added strength. Any business that deals with cash, checks and financial transactions - or other sensitive,confidential information - would be ideal customers for these unique security bags and envelopes.
Related Products