Contact DM Packaging for Wholesale Packaging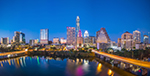 Note: DM Packaging is now an Approved HUB (Historically Underutilized Business) for the State of Texas.
View Certificate.

281-859-4933
281-550-7936 (FAX)

DM Packaging is continuously adding to its wide range of packaging products.
DM Packaging Sales Sheet

If you would like automated assistance in getting a quote for your WHOLESALE ORDER, please use our online quote request form. For more urgent assistance, please contact us at the numbers listed below.


Diann Mitchell
Owner and President
diann.mitchell@att.net

281-859-4933 (Office)
281-550-7936 (Fax)
Michael Mitchell
Vice President of Sales
michaelrmitchell@att.net

512-652-8425 (Mobile)



---

If you prefer, complete this form and we will respond promptly to your bulk packaging questions or comments.

All fields with an (*) are required.